Trijam Animated GIF
A downloadable game for Windows
The source code for how I made the juicy Triple Trijam + Trijam animated GIFs!
For Triple Trijam 2020, my new large Trijam event that I made from invitation from Trijam's normal host Matejs of Rocknight Studios, I wanted to make a new juicy animated GIF for the itch cover image and branding. Using the new Trijam branding art by AXLplosion, I created such a GIF using GameMaker Studio 2, tweening, and a little bit of Smear FX and Juice FX.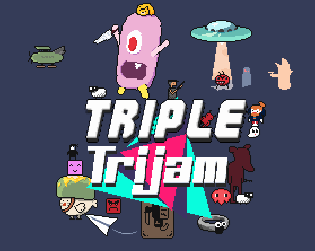 This was the original artwork I sourced the components from:
I later retooled the GIF, removing the "Triple" and repositioning the objects as needed to make a generic Trijam animated GIF that's now used for all the standard weekly Trijams.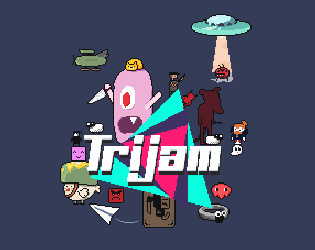 You download the GMS2 source code below for your own interest.
It was mainly achieved with hand-designed tweens, rotating and growing the elements on separate timers. I used a bit of randomness for the bulk of the small elements, making that a bit easier for me while giving a nice effect.
You can see the development of subsequent test GIFs on the right-side.
Download
Click download now to get access to the following files:
TripleTrijamLogo_SourceCode.zip
2 MB
TripleTrijamLogo_v100.zip
2 MB