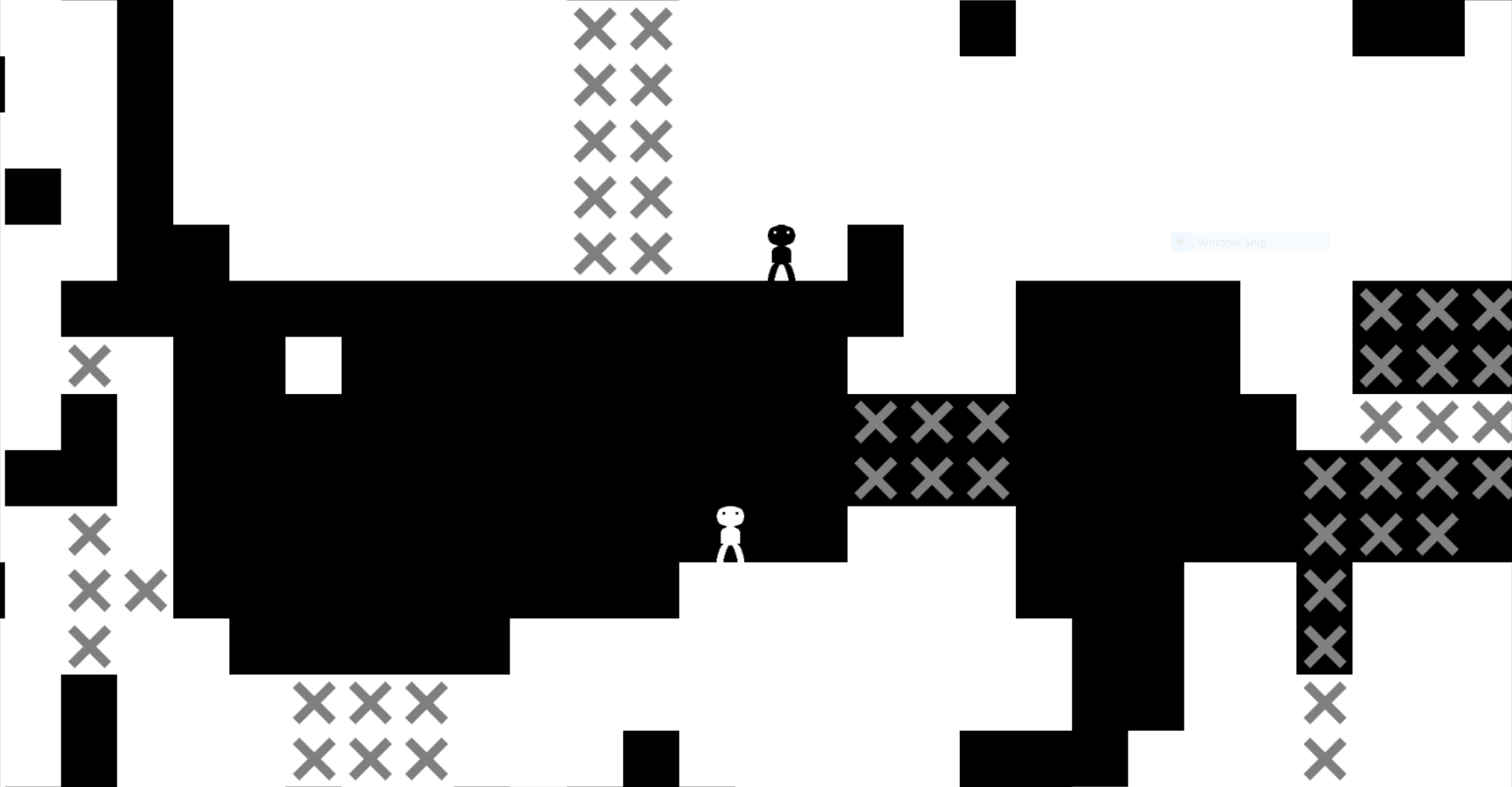 Negativity Prototype
A downloadable game for Windows
Multiple sequential prototypes of Negativity: my concept for a 2D two-player cooperative puzzle-platformer based on negative space and destructible terrain.
CONTROLS:
WASD
IJKL or Arrow Keys (depending on version)
Aim with mouse and fire with "Down" key (in certain versions)
Jump has a different control scheme either with keyboard or gamepad in the later versions, named in the filenames.
FEATURES:
You can move two character around in inverse collision environments. For the black character, black is the foreground and white is the background, while for the white character, white is the foreground and black is the background. They exist in each other's negative space.
There are some gray areas they both can occupy. In the later versions, I add ugly destructible tiles which can be awkwardly destroyed by firing a ball. This is a terrible way to destroy the terrain and just exists to demonstrate the concept.
Certain later versions also have weird little portals in each space that pass a physics box between them, swapping its color as it passes through.
CREDITS:
While this playable demo was originally developed solely by myself while I was in high school, I had a team for this project at DigiPen. Some experimental changes were made to the demo by two of my designer teammates and myself, particularly in testing how the jump should work in the control scheme. My artist drew all the beautiful digital artwork and animations you can see. I drew the crappy paper sketches.
The following roles were later changed, particularly after I left DigiPen, but throughout the time I was there the team was as follows:
Jess Keddy - Artist
Eli Ghali - Director, Designer
Pat Yimtae - Designer
Jay Sherson - Technical Director, Lead Developer
Mo Amro - Gameplay Developer, Associate Producer
Jamie Hammond - Physics Developer
Chris Ayson - Graphics Developer
Clark Biard - Audio Lead, Sound Designer, Composer
Gunnar Clovis - Producer, Audio Developer, Editor Developer
HISTORY:

I started designing this game in 2010 when I was very young (I have very cringey dated paper design docs from this era...), and it was my dream project for many, many years. I wanted it to have the feel of the Portal 2 co-op, with each player working in tandem to solve the spatial puzzles, but each player can also humorously grief and tease each other using the core game mechanics. The mechanic of destructible terrain in a dual-inverted negative space collision environment offers so much gameplay potential; I've been obsessed with this concept for over a decade.
The first simple prototype was made in high school. I then continued with this prototype somewhat in college, experimenting with portals that swapped physics objects between the two inverted collision environments. I was going to develop this into a full game with a team, but I left my university due to financial, career, and largely personal reasons (i.e. debilitating depression and overwhelming suicidal ideation) and was never able to complete the game.
My love and drive for it was cut down largely by this bad memory at university... Not from my team—my team was absolutely wonderful—but from the surrounding context. And my discovery of The Rabbit and The Owl which just felt like a huge middle-finger from the universe haha! It's a very similar game—it's actually basically the exact same game I designed as a little kid in 2010—with the creator's initials being GC (same as mine)... And my awesome artist at university had this great design for an Owl-like main character... It was just very serendipitous and it felt like a ridiculous almost-Shakespearian comedy of silly coincidences. It really took the wind out of my sails for this project.
I still love the core concept, and have more recently applied it to other genres, such as a sokoban puzzle game with Doppelgate, a runner-game with Flip Stride, and a tactics game in Annul & Void, and I'll likely come back to it... eventually... with a hard emphasis on eventually. I doubt I'll work on this again for many, many years, but I still love it and remnants of this design concept infect virtually every project I make modernly.
| | |
| --- | --- |
| Status | Prototype |
| Platforms | Windows |
| Author | Gunnar Clovis |
| Genre | Platformer, Puzzle |
| Tags | Co-op, cooperative, Destruction, Local Co-Op, negative-space, Physics, Puzzle-Platformer |
| Average session | A few minutes |
| Inputs | Keyboard, Mouse, Gamepad (any) |
| Accessibility | Color-blind friendly, High-contrast, Interactive tutorial, Textless |
| Multiplayer | Local multiplayer |
| Player count | 1 - 2 |
Download
Click download now to get access to the following files:
NegativityPrototype_v5_JumpBuilds.zip
41 MB
NegativityPrototype_v4.zip
7 MB
NegativityPrototype_v3.zip
7 MB
NegativityPrototype_v2.zip
7 MB
NegativityPrototype_v1.zip
7 MB